This is an automatically generated documentation by LaTeX2HTML utility. In case of any issue, please, contact us at info@cfdsupport.com.
This tutorial is focused on advanced meshing with snappyHexMesh (the hexa-dominant unstructured mesh generator included in the OpenFOAM toolbox) and advanced postprocessing namely the torque of turbine blades.
There are two main challenges

a combination of a static and a moving mesh
the axis of rotation is not parallel with any of the main axes (this fact complicates meshing with snappyHexMesh and evaluation of the torque)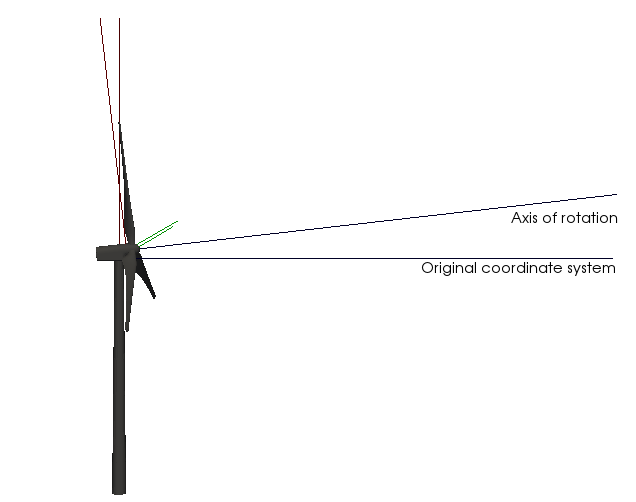 Figure: Wind turbine tutorial. The axis of rotation vs. original coordinate system.
There is shown a way how to deal with such circumstances – how to prepare an appropriate mesh from stl files and how to evaluate the torque and power of the wind turbine in this case.
There is also described the whole process – meshing, case setup, running the simulation and the results evaluation.
Test case parameters:
Inlet air velocity:
Computation area dimensions:
Speed of rotation: ( )
Incompressible transient flow
Figure: Wind turbine tutorial. Model of wind turbine.
The case setup can be found in the enclosed training materials. Copy the corresponding directory to your run directory.

# cp -r training/run/windTurbine $FOAM_RUN
# cd $FOAM_RUN/windTurbine

This is a script-file that does all the necessary steps (commands which have to be executed) for the mesh generation and running the CFD simulation.
The first step in this tutorial that needs to be done is a mesh generation, then a simulation setup follows and the third step is running simulation and evaluation of the torque.
For completeness the listing of the Allrun-rotating.sh follows:

#!/bin/bash
# --------------------------------------------------------------------------- #
#   ==   ===  ==                                                              #
#  ||   ||=  || ))  support s. r. o. 2017, www.cfdsupport.com                 #
#   ==  ||    ==                                                              #
# --------------------------------------------------------------------------- #

# number of CPUs to run on
numProcs=12
# endTime
endTime=1

# check environment
if [[ $(echo $WM_PROJECT_VERSION |  cut -c1-3) != "dev" ]];
then
    echo "Use OpenFOAM dev with this example script, please."
    exit
fi

echo
echo "Cleaning..."
   ./Allclean.sh

sed -i "s/\(.*numberOfSubdomains[ \t]*\)[0-9].*;/numberOfSubdomains $numProcs;/g" system/decomposeParDict
sed -i "s/\(.*endTime[ \t]*\)[0-9].*;/\1$endTime;/g" system/controlDict


   ./makeMesh.sh $numProcs

echo "Running Simulation..."
   cp -r 0.org 0
   decomposePar > log.simulation-decomposePar  2>&1 
   mpiexec -np $numProcs renumberMesh -overwrite -parallel > log.simulation-renumberMesh 2>&1
   mpiexec -np $numProcs pimpleFoam -parallel > log.simulation-pimpleFoam 2>&1