General OpenFOAM® Support
Package of Technical Support for All Versions of OpenFOAM®
The Technical Support package is designed to provide top level technical assistance with all OpenFOAM® software versions and also with all software components already delivered by CFD support (if any).
CFD Support is familiar with providing extensive technical support services. The technical support is aimed at CFD workflow, open-source software, namely OpenFOAM®. CFD Support provides all scales of technical support, from micro operations (couple of hours) to the big conceptual projects of hundreds of hours. The range of technical support is wide, including: general assistance, installation, trouble-shooting, fixing errors, case setup & running, technical documentation, CFD methods, IT consulting, mathematical & physical analysis, source coding, scripting.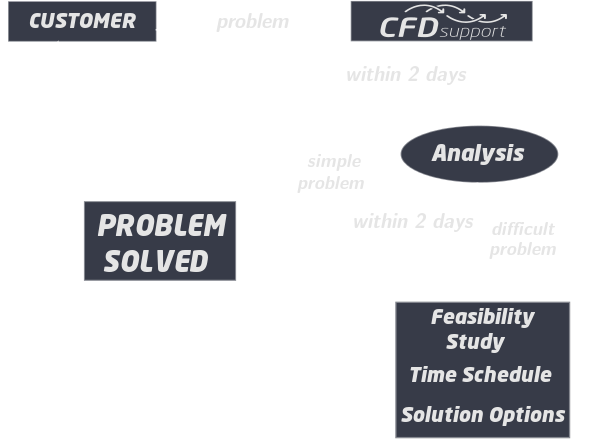 General OpenFOAM® Support can be used not only for supporting all versions of OpenFOAM®, it can be also used for supporting of CFD Support's other products: Turbomachinery CFD created to enable a quick and efficient design optimization of turbomachinery components (compressible flows). OpenFOAM® for Windows is complete OpenFOAM® distribution under Microsoft Windows OS. OpenFOAM® in Box a package of OpenFOAM® with all dependencies installed inside the package. Turbo Blade Post a set of CFD postprocessing plugins for ParaView.
The Technical Support package is offered on a annual and per-user basis. There is usually one engineer is nominated by the Client, who communicates with CFD support. Technical support is delivered weekdays from 9 am to 5 pm CET via telephone, email or Skype.
The Technical Support process is following. When the particular support request is received in CFD support, the sender is as soon as possible informed whether the request is accepted and whether the request is clear to CFD support. Each accepted request is analyzed at latest in two days (weekdays).
After that, at latest in next two days (weekdays) the request is resolved. According to experience of our engineers, most of the requests are solved immediately or in those first two initial days (weekdays). If the requested solution exceeds two days (16 work hours), the solution options are delivered back to the Client. Anyway, each request (no matter how difficult) is resolved in four days.